Web Accessibility Training & Courses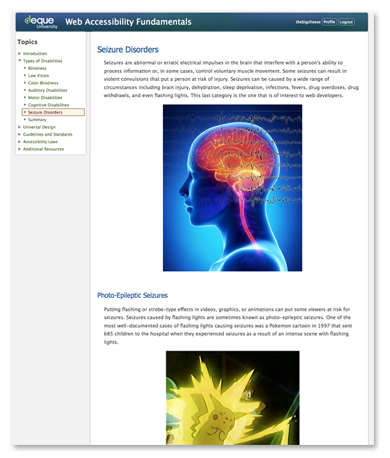 IAAP Certification Preparation Course
Learn everything you need to know to pass the IAAP certification exam (CPACC: Certified Professional in Accessibility Core Competencies) in Deque's IAAP certification exam preparation course.
IAAP certification prep course
Deque Announces Scholarships—Free Access to Deque University—for People with Disabilities
If you have a disability, you can qualify for free access to Deque University to learn web accessibility skills.
Accessibility Tip: Manage Focus for Natural Web Page Interaction
Online Self-Paced Web Accessibility Training
Deque University offers a wealth of web accessibility information, packaged into online learning modules that you can access any time, anywhere, and at your own pace. You can walk through each module step by step, or you can use Deque University as a handy reference to find answers to specific questions related to your current projects.
New to Web Accessibility?
We can help you get up to speed. Start with our class in Web Accessibility Fundamentals to learn the basics of disability types, assistive technologies, universal design, and how people with disabilities use the web.
Looking to go beyond web accessibility basics?
We can help you learn the advanced aspects of web accessibility too. Advanced topics include Custom JavaScript and ARIA Widgets and Dynamic Updates, AJAX, and Single-Page Apps. Or, if you are working with PDF files, you may want to enroll in our courses on MS Office Accessibility, PDF Accessibility, or InDesign Accessibility. Other specialized courses are also available.
See the list of courses and packages for more information.
---