Color Blindness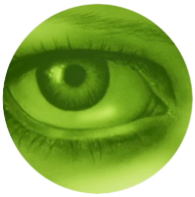 Color-blindness does not literally mean that a person can't see any color at all (except in very rare cases). Color-blindness refers to the inability to distinguish between certain kinds of colors, especially colors that are of equal brightness or luminosity, even if the colors themselves appear quite different to people without color-blindness.
Difficult Color Combinations for People Who Are Colorblind
There are several kinds of color-blindness, and varying degrees within those types, so it is difficult to provide a precise explanation of which color combinations are the worst for people who experience color-blindness, but here are a few of the more common types.
Red and Green
The most common form of color-blindness is red-green color-blindness, which makes it hard to distinguish between reds, oranges, and greens. Below are a few examples of the types of colors that can be easily confused. Can you see the numbers in each of the circles?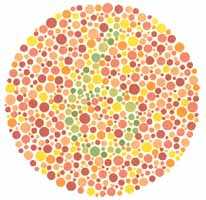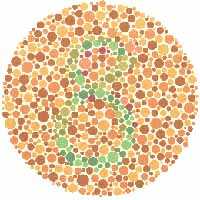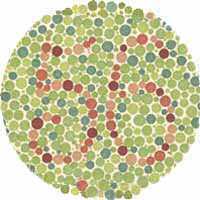 The row of images below is adjusted to approximate how someone with red-green color-blindness might see the images. The numbers are very difficult to distinguish this way.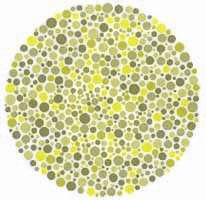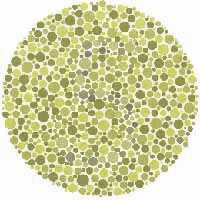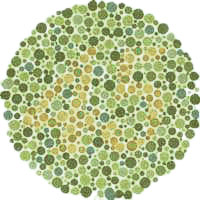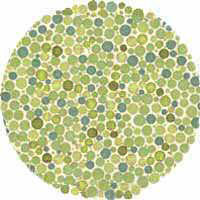 In case you have trouble seeing the numbers in any of these images, here is an explanation: The number six appears in the first circle (green numeral on a red background). The number eight appears in the second (green numeral on an orange background). The number forty-five appears in the third circle (orange text on a green background). The number fifty-six appears in the fourth image (red text on a green background).
Red and Black
Red and black can be difficult for some people to distinguish. Here is the unaltered version:
And here is a version as it might appear to some people who cannot distinguish well between red and black:

All colors
In very rare cases, a person's vision can be insensitive to all colors, rendering the world in a type of grayscale. Here are the same images from the examples above, modified to appear in grayscale: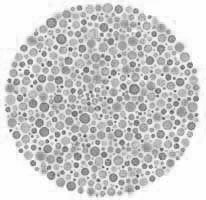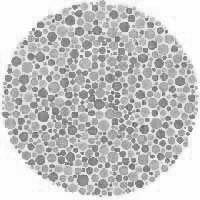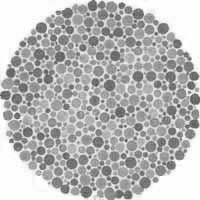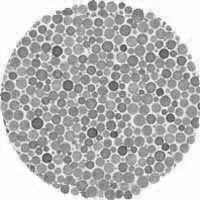 Color-Blindness on the Web
Never use color as the only way to distinguish information
Bad Example
The table below uses color to convey the level of difficulty of the classes. Some people with red-green color-blindness may have difficulty distinguishing between the colors.
Original Table
JavaScript Courses

| Course Title | Level* |
| --- | --- |
| Angular.js | |
| Node.js | |
| JQuery | |
| Introduction to JavaScript | |
*Red = advanced, Yellow = intermediate, Green = beginner
How the above table might look to someone with color-blindness:
JavaScript Courses

| Course Title | Level* |
| --- | --- |
| Angular.js | |
| Node.js | |
| JQuery | |
| Introduction to JavaScript | |
*Red = advanced, Yellow = intermediate, Green = beginner
Assistive Technologies for People with Color-Blindness
There aren't many assistive technologies for people with color-blindness. For the most part, it is a condition that people just have to live with. A company called EnChroma claims to have developed glasses that can help compensate for some kinds of color-blindness. http://enchroma.com/ Their products may be worth checking out if you experience color-blindness.
Access a printable summary of considerations for all disability types.
Color-Blindness
Limitations

Color blindness, or color vision deficiency, is the inability or decreased ability to see color, or perceive color differences, under normal lighting conditions.

Partial color-blindness: Difficulty distinguishing between certain color combinations

Red/green color-blindness (For some people, this extends to red/green/orange/yellow)
Red/black color-blindness
Other color combinations (rare)

Total color-blindness ("monochromacy," very rare): The equivalent to seeing in shades of grey, black, and white

Assistive Technologies
None, usually. Some people with monochromacy also experience low vision and may use a screen magnifier and/or a screen reader.
Input Methods
No special input methods, usually, except for those who also have low vision (see the "Low Vision" table above)
Input Design Considerations
No special considerations, usually, except for those who also have low vision (see the "Low Vision" table above)
Output Methods
No special output methods, usually, except for those who also have low vision (see the "Low Vision" table above)
Output Design Considerations
Avoid relying on color alone to convey information. Supplement color with other techniques such as text explanations, patterns, etc.